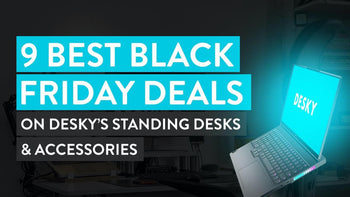 News
9 Best Black Friday Furniture Deals for 2021
Happy Holiday Season! At Desky, we're gearing up for all those seasonal sales, including our own, with our upcoming standing desk deals! Given how much we rely on tech and office equipment to live our lives, it's no surprise that the cost of all the best desks, chairs and accessories can quickly add up. If you work from home, then you likely know better than anyone how costly it can be to get all the right gear.
Table of Contents
We strive to keep our products affordable all-year long, but thanks to our holiday sales, you can treat yourself to the best standing desk Black Friday deals with these special discounts.
Standing Desk
We couldn't run our Black Friday sales without including our beloved electric standing desk models. From warding off weight gain and back pain to enabling better posture, the right standing desk is a staple in any home office set-up. We have adjustable desk height models for people who want to seamlessly transition from sitting to standing, L-shaped and curved standing desks with more room and even compact desks for small spaces. If you've been on the fence about getting a standing desk because of the cost and are on a budget, these Black Friday deals are perfect for you.
Gaming Desk
PC gamers can give their setup a makeover with one of our pro gaming desks. With plenty of space for multiple monitors and even streaming equipment, you'll be able to game in ultimate style and comfort. Enjoy a variety of models that allow you to build the ultimate PC gaming setup from home, whether you run on a laptop or have flashy dual monitors and a custom build. Our gaming sit stand desk is ultra-stable, durable and perfect for the gamer who wants to take health into play during their sessions. Our traditional models feature ergonomic desk top designs for added comfort.
Ergonomic Chair
If there's anything you decide to invest in for your home office setup, it should be an ergonomic chair. It's more than just a good call for your comfort; it's a great choice for your health, too. Sitting for long periods comes with an increased risk of weight gain as well as chronic back and neck pain. An ergonomic chair can help take some of the pressure off your posture. Paired with a standing desk, you can alternate between well-supported sitting and some much-needed stretches.
Ergonomic chairs are able to adjust to your height so you have the ideal fit. Between routine breaks away from the computer, you can enjoy personalized comfort at your desk that makes work and play much more enjoyable.
Office Sit Stand Active Stool
Active stools are designed to keep you attentive at your desk. If you've been looking for ways to correct poor posture at your desk, then our sit stand active stool is one option to consider. If you're new to a standing desk setup, then you might find it harder and even uncomfortable to be on your feet for long periods of time. An active stool allows you to easily take a break while adjusting to the height of your desk. An ergonomic design ensures you stay upright and alleviate back strain while having a full range of movement.
Our stool is made to move with you, improve posture and help you stay productive. Mindful work can be easier with active sitting that encourages you to stay focused and aligned rather than slouched forward.
Monitor Arms and Risers
Snag one of our adjustable monitor arms and risers to give your display a boost. Keeping dual monitors eye-level allows you to seamlessly transition between tasks while prioritizing good posture. Gamers and workers alike can benefit from a monitor arm to give themselves more space, better design and even greater efficiency from their PCs. We have a variety available for you to customize your setup. They're the perfect accessory to any standing desks that you score during our Black Friday sale!
If you're going to invest in a standing desk, you may want to add an adjustable monitor arm as well to make transitioning between sitting and standing easier. Although standing desks are easy to lift and lower, it can be tedious to repeatedly readjust your monitor. Mounting your monitor can free up even more room so your surface is fully available for other essential items.
Cable Management System
Few things are as frustrating as a mangle of cables sprawling from your desk. Our variety of office accessories can help you calm the clutter, including cable management organisers designed especially for a sit to stand desk. A cable management system is extremely easy to install and brings much-needed organisation to your workspace. If you game, stream or have a lot of equipment on your desk, a cable management system will make it easy to quickly connect, disconnect and readjust your desk layout as needed. Add a cable and wire organiser to your desk or chair purchase and have all your cables organised neatly under your new desk.
Part of our essential home organisation equipment is a good cable management system that you can adjust to suit your setup. Dual monitors, a mouse, keyboard, headphones and mic can all quickly clutter your space, but the right system will keep everything nice and neat. For more info, take a look at our guide to organising cables and wires under your desk!
Elsafe Surface Charger and Headphone Stand
We're all about making desks great places to be. Whether you're sitting or standing, there are some office accessories that can transform your desk from a simple surface to a reliable piece of equipment in your life. The Elsafe Surface Charger works with any desk to bring you a clutter-free alternative to charging your phone. By mounting under the table, this charger allows you to place your phone on top of the desk and receive a quick, strong charge with up to 10W of power. Our headphone stand will allow you to tidy up even further; simply stand it on your desk and mount your headphones for safekeeping when you aren't using them.
Desky Pedestal Cabinet and Drawers
Our Pedestal Cabinets and desk drawers are perfect for anyone who needs to add some sleek and straightforward organisation to their office space. They're compact enough to accommodate any space but roomy enough to hold everything from your phone and chargers to a keyboard or paperwork. When you're working from home, it can be hard to separate work from play. Investing in a cabinet or desk drawer allows you to minimize distractions during the job and easily put work away when you're done for the day.
Our exclusive Black Friday deal starts soon, so take a look at our huge range of sit stand desks now and plan ahead! Inventory moves fast, and we want everyone to get what their hearts are set on. With the coming Black Friday desk deals, you'll be able to revamp your office or give it a pick-me-up that gives back year-round. Shop online and get the best standing desk deals right here at Desky!