Desky Ergonomic T LED Gaming Desk
In Stock
Own it now, pay later
Same Day Dispatch On Orders
Before 12pm
Office solutions for your team? Get a quote!
Let us help you create an environment which enhances your space and teams energy!
Get started
T Frame modern design
Weight Capacity
of up to 100kg
Multi RBG LED lighting
Integrated Cable Management
10 Year Warranty on all parts
Ergonomic edge for comfort
Feet Stabilisers for added strength
Textured desk surface
Desky T LED Gaming Desk
Eco Friendly MDF: Features heavy-duty and moisture resistance material built to last.
Improved Comfort: Designed to allow you to move into your gaming set up and easily reach the desk with convenience.
Ample Space: The large desktop allows you to have plenty of space for your CPU, Monitor Arms and large desk mats.
Desky Easy Assembly: Assemble within 30 minutes with easy to follow instructions and simplistic design.
RGB LED Lighting System
Plug in the USB cable and enjoy the mesmerising light show. Full RGB Multi-colour lights offer a cool ambient lighting within your space whilst gaming. All controlled by a simple button controller makes it easy to adjust at anytime, even while in the middle of game play. Combine this with our gaming monitor arm for more RGB bling.


Desky® - Raising the Standard In Standing Desks
Our frames are engineered from high end aluminium and feature a professionally designed structure to provide world class rigidity and stability. We've obsessed over the design of our frame to make sure we are bringing you the most stable, toughest, and hardest wearing frames available.
Don't skip past the ultra slim leg design, which maximises your under desk space. The wide engineered steel feet maximise the surface area contacting the ground, locking the entire construction into place. Our rigid build ensures that the whole unit remains completely stable, no matter how much pressure you apply. Our fixed gaming desk range come in 2 alternate styles:


Downloads
Specifications
Desk Specifications
| | |
| --- | --- |
| Height | 750mm |
| Gross Weight | 36kg |
| Frame Material | Steel |
| Weight Capacity | 100kg |
Feature Specifications
| | |
| --- | --- |
| Ambient Lighting | Multi-Colour Gradient Breathing LED Lighting |
| Ambient Lighting Controls | Multi-Button Adjustment Controls |
| Cable Management Style | Corner Holes for Cable Management |
| Ergonomic Edge | Yes |


Desk Top Specifications
| | |
| --- | --- |
| Core Material | MDF |
| Finish | Melamine Decorative Surface |
| Colours | Black |
| Standard Sizes | 1200 x 600 x 18mm |
| Desktop Thickness | 25mm |
| Custom Sizes | No |
Shipping Times
| | |
| --- | --- |
| Green | 1 Business Day |
| Blue | 1 - 3 Business Days |
| Red | 2 - 4 Business Days |
| Grey | 4 - 8 Business Days |
Delivery Partners
Delivery Costs
| | |
| --- | --- |
| Monitor Arms & Accessories | $9.95 Flat Rate |
| 2 Leg Sit Stand Desks | $39.95 Flat Rate |
| 3 Leg Sit Stand Desks | $59.95 Flat Rate |
| Ergonomic Chairs | $49.95 Flat Rate |
* We offer an easy flat rate shipping structure based on type of products you are ordering. Please note that if multiple product types are ordered the higher of the flat rate shipping charges will apply. Multiple desks/chairs freight will be calculated during checkout.
Shipping Frequently Asked Questions
1. Can I provide authority to leave for my delivery?
You can select 'authority to leave' (ATL) in the checkout when placing an order. By doing so, our shipping carriers will leave the delivery at your unattended premises without requiring a signature to accept the delivery. DESKY, and its shipping carriers associated with the delivery of your parcel do not accept responsibility for any loss or damage that may result. In certain instances, it may not be possible for a shipping carrier to leave a parcel with ATL instructions. For example where an address is in a secure building or complex and proper access to the address is not possible or there has not been sufficient instructions on where to leave the delivery.
2. What happens if my item is damaged during transit?
All products leave our warehouse well packaged, in perfect condition and this is how they should arrive to you! We hope it doesn't happen but in the unlikely event that an item gets damaged in transit or part of a delivery is missing please notify us via the Contact page or email help@desky.com.au directly within 2 business days of receiving your order. Please provide your order details and a clear photo or video of the relevant damage so we can organise a replacement part or product as quickly as possible and lodge a claim with the shipping carrier.
3. My item seems to be late
We understand that delays are frustrating, so thank you for your patience! Please check the tracking information you have been sent for your delivery in case there is a tracking update or notification of an attempted delivery, issue with the delivery address or the parcel has been taken to a parcel collection point.
If your order is more than 2 business days late based on our delivery estimates please contact us and provide your name, order number and date of order and we will contact the freight carrier directly.
4. Do you ship to PO Boxes?
We are only able to ship Monitor Arms and Small Accessories to PO Boxes. The larger shipping size of desks, chairs and larger accessories means that we can only ship these to residential or commercial addresses. We are unable to accommodate custom delivery requests, such as calling in advance or on arrival, scheduling specific delivery dates and times, or leaving the package in a specific location. Such requests can only be accommodated if a customer organises freight collection and services themselves.
If your order is more than 2 business days late based on our delivery estimates please contact us and provide your name, order number and date of order and we will contact the freight carrier directly.
5. How long does it take for your desks to be dispatched?
We ship all orders from our warehouse based in Brisbane, Qld. Orders for in-stock items placed before 2pm AEST each day are processed and shipped the same day, excluding weekends and public holidays. After 2pm, orders will be shipped on the next business day. Orders placed after 2pm on a Friday will only be shipped on Monday morning.
Tracking information is provided for all deliveries. Once your order has shipped tracking details will be sent via email and SMS if you have provided your mobile number.
Shipping Policy Notes
*The above delivery time frames are estimates from our shipping providers only. Delivery times start from the date of dispatch from our warehouse, not the date orders are submitted and refer to business days not calendar days.
*We make every attempt to ensure all deliveries arrive within the estimated time frames. Although we hope it never happens, delivery delays can occur from time to time that are out of our control. If your order is more than 2 business days late based on the above time frames please contact us and provide your name, order number and date of order.
*Rural and remote areas may attract longer shipping times but we make every effort to choose the fastest delivery partner to your area to ensure we provide the fastest delivery times possible.
Frequently Asked Questions
Is this a standing desk?
This is not a standing desk. It is a fixed height seated desk and does not raise or lower. The desk height is 75cm and has a number of ergonomic and functional features that make it a great choice for a gaming setup or home office!
Can I order a different custom size/colour desktop?
The DESKY Ergonomic T LED gaming desk is only available with a black desktop that features a textured surface for grip and functional ergonomic cutaway edge. The desktop comes with USB powered RGB LED strip lighting to provide ambient lighting that allows you to personalise your desk space easily with the included remote.
Are there any colour options for this frame?
Yes, we offer the frame in 2 colours: black and red.
What is the weight capacity of this desk?
The DESKY Ergonomic T LED gaming desk provides an impressive 100kg weight capacity so you can have confidence it will hold even the heaviest of monitors and gaming setups.
Are there cable access holes/grommets in the desktop?
Yes, there are two grommets near the rear corners of the desktop with holes for easy cable access and organisation.
Are there pre-drilled holes in the desktop to help with assembly?
Yes, the desktop come with threaded screw inserts for easy assembly of the desktop to your desk frame with the included screws. You do not need a power drill or tools, simply just a Phillips head screwdriver and the included hex keys.
How long does it take to assemble?
Assembly will take as little as 20 minutes and the desktop comes with threaded screw inserts to make assembly as quick as possible without needing any power tools. For detailed, step by step instructions please watch the assembly video and refer to the instruction manual included.
Desky Warranty
This product comes standard with a 5-year limited warranty. See more information on Desky warranty coverage here.
If you require any assistance, we will be happy to help, simply please call (07) 3088 9131 or email help@desky.com.au
Desky Ergonomic T LED Gaming Desk
Select variant
Customer Reviews
Write a Review
Ask a Question
01/09/2021
Bryce

Australia
5/5
Very happy with customer support and ease of install, looks amazing and can fit two of my monitors comfortably. Shipping was fast.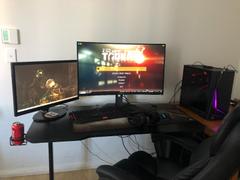 01/23/2021
Ben K.

Australia
LED heaven
Quick delivery and the LED lights are awesome day and night, easy to use and extremely stable. Thanks Desky!