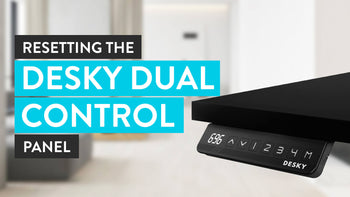 News
How To Reset The Desky Dual Sit Stand Desk Control Panel
Looking to reset your Desky Dual for the first time? We're here to help with a few tips that will make your Desky life simple. Whether you just completed an installation, are looking to recalibrate the Desky's height in centimeters, or troubleshooting an error message, it is just a matter of a few simple clicks of a button to do a reset.
Take a look at our video walkthrough on how to reset your Desky Dual's control panel:
How To Reset Your Desky Dual Standing Desk Control Panel
First and foremost, in any programming or error situation, ensure all the cables to the control box under the Desky are firmly plugged in. This includes the power cable to both yellow leg cables in the control panels.
Then check the power outlet at the wall to ensure it is secured in place, and switched on.
Next, make sure they are no obstacles under your Desky, as we will be bringing it down to its lowest height.
To begin using your Desky for the first time, or troubleshooting any error messages you could encounter, we need to reset the Desky.
When ready, press and hold the down button on the control panel until the desk reaches its lowest position.
Then press and hold the down button again for 10 seconds until the display reads "RST" or reset.
Press it once more, and the Desky will bob up and down for a second and display its height.
Hooray! Your Desky Dual is now ready to use. Need more help? Check out the Desky Dual User Manual.
How To Remove An Error On The Desky Dual's Control Panel
To remove an error on the Desky, press and hold down the button for 10 seconds until "RST" is displayed.
Then press and hold the down button again until the Desky reaches its lowest point.
At this stage, it will bop up and down, display that lowest height and it is now ready to be used.
Now, that is how you reset your Desky Dual. What's next? Learn how to program your desk height memory pre-sets or perhaps Learn how to lock the desky desk control panel!
Be sure to check out our full range of Desky standing desks and accessories and improve your health when it comes to ergonomic sitting posture during long work hours.
The Desky Dual Standing Desk – Features and Specs
Height range of 60-125cm
Weight capacity of up to 140kg
Movement of 36mm/second
Dual motor lifting system
10 year warranty on parts
Anti-collision system
Sound reduction at 40db in motion
Stability and strength and a heavy duty frame
3 stage telescopic legs
Our bestseller, the Desky Dual, is popular with customers because of its incredible stability, easy-to-use controls and almost infinite range for customisation. Many of our customers find the Desky Dual standing desks the best choice for their home and office, no matter the size of your space. Its reliability and effortless ability to switch quickly from sitting to standing positions mean that you'll certainly be able to incorporate sitting and standing into your daily routine whenever you like.
The Desky Dual is perfect for you if:
You require a desk that's able to bear a large amount of equipment
Desk size range and desktop customisation is important to you
Your budget can accommodate an electric sit stand desk with 2 motors
Take a look at Desky's desks today and get started on improving your posture and health at your office!